Rob Henderson
Restaurant Manager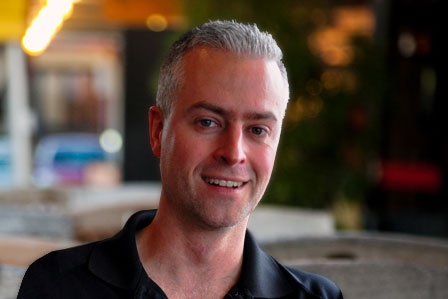 Rob Henderson has been part of the Blue Canoe team since January 2013. He has been a welcome addition, bringing with him a wealth of experience, a strong work ethic, and a dry sense of humour that keeps a smile on everyone's face.
Born and raised right here in Richmond, Rob is the embodiment of the saying "work hard, play hard". An extreme outdoor enthusiast, Rob loves to spend time in nature – fitting in as many hiking and camping excursions as his schedule will allow. His love of the outdoors takes him to wild and wonderful places for camping. We have heard dramatic, nail-biter stories of very close encounters with large, scary animals – Rob's idea of a good time.
Rob got his start in the hospitality industry at the age of 19 as a bartender at the Richmond Keg. After 4 years at The Keg, he spent a little time at Doc Marlins (remember Bridgepoint?), and then a lot of time at The Foggy Dew as Head Bartender and then Bar Manager. Over the years he has developed a passion for wine, which led him to take courses with the International Sommelier Guild to further his knowledge. His interest in this topic has spanned more than a decade. "I think that wine has so much depth and versatility from a culinary aspect. Certain wines taste like they are from where they were made, and pair with the local cuisine. Basically wine is a kind of world tour."
As a Steveston resident, working at the Blue Canoe has been a good fit for Rob. He loves the positive energy at the Canoe, which ties into the strong sense of community in Steveston overall. Everybody knows each other. Personal connections played a part in Rob's decision to come to the Blue Canoe as well, having friends who work here, and having gone to school with one of the owners. In addition, Rob's dad is the Blue Canoe's lawyer. Seems that it was meant to be.